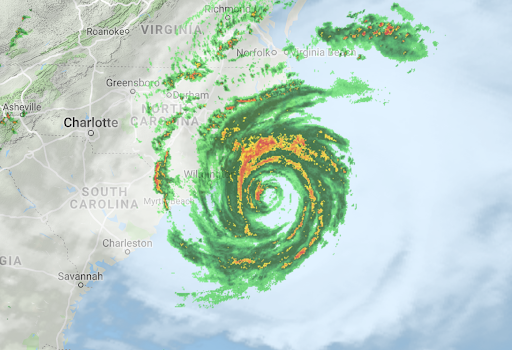 Dear Clients,
With Hurricane Florence gaining in strength and intensity and due to hit the East Coast in a matter of hours, we urge all of you to make sure you have a plan in place and are prepared for the worst-case scenario, even if you or your business are in an inland county. Your safety and wellbeing are important to us and we want to let you know that we care and we are here for you during this storm.
To be available to YOU when you need us most, our Relation Storm Team will be working remotely with extended hours from 7am-7pm throughout the storm, starting Thursday, 9/13, and continuing every day through Monday, 9/17 (including Saturday and Sunday).
We will be available to take your calls and respond to emails and file any necessary claims as needed. We have also included direct claims reporting and payment information for our major insurance carriers below for your convenience to report your claim directly on a 24-hour basis.
If you are unsure of your carrier or policy information, you can call our main number at 704-688-1228 or 800-456-1696 or email us at [email protected] during our extended hours to assist you in getting your claim filed. During normal business hours, you may continue to reach out to your account manager as you do currently.
Florence is expected to be the most powerful storm to make a direct hit on the Carolinas in decades. Experts are expecting wide and significant impact to our area, no matter where it ultimately comes ashore. At the very least, we can expect Florence to bring heavy rain and wind which can easily cause flooding and power outages. There is additional concern due to the large expected area of impact and the extended time that it may stay in our area. Many of our client families and businesses are already under a mandatory evacuation with more on the way. If you are in an evacuation zone, please heed that warning and DO NOT attempt to stay in your home. If you are not under an evacuation order, there is still time to prepare. We have attached some storm tips as well as a blank emergency plan that might be helpful to your household in this process.
Our Coast is expected to feel the blast early tomorrow with damaging and life-threatening storm surge, wind and rain. In central areas, we expect to feel the impact due to sustained rainfall and significant wind. In western areas of our states, we should still be prepared for heavy and sustained rain that might trigger flooding and mudslides. Please stay alert and take this storm seriously no matter where you live in our Carolinas and East Coast states. If you are under an evacuation order, please heed that order. If you aren't under an evacuation order, take this time to gather your supplies: food, water, flashlights, extra batteries, medications and important documents. Remember to make plans for your pets. Clear your yard of debris that can cause damage in high winds.
Both North Carolina and South Carolina have some great resources and mobile applications for your use in preparation for and during the storm:
The ReadyNC mobile app gives information on real-time traffic and weather conditions, river levels, evacuations, and power outages and is an all-in-one FREE tool for emergency preparedness. The SC mobile app can help you build your emergency plan, keep track of supplies and stay connected to loved ones. In addition, coastal residents can now "Know Your Zone" instantly using the maps feature as well as locate the nearest emergency shelters when they are open. The tools section features a flashlight, locator whistle and the ability to report damage to emergency officials.
Federal sites are also helpful, or download the FEMA mobile app for resources on how to plan and prepare for a hurricane event as well as steps to take afterward to minimize damage and to get back in business or back in your residence as soon as possible. You can also text PREPARE to 4FEMA (43362) to receive useful tips about how to prepare for disasters.
See the National Hurricane Center for updates on the storm and to the National Weather Service for detailed warnings.
Please be safe during this storm and reach out to us at any time with questions and concerns.
Other Helpful Resources
Personal Lines Claims Reporting Phone List
Personal Lines Direct Bill Payment Phone List
Commercial Lines Claims Reporting Phone List
Commercial Lines Direct Bill Payment Phone List
Relation Storm Tips
Household Emergency Plan
What to Take to a Shelter
19 Post-Florence Tips: What to Do After the Hurricane