October is National Cybersecurity Awareness Month, and as the world grows digitally, cybercrime and online fraud are becoming more complex. Our experts have put together a helpful guide for you to assess your cyber risk and whether you may need to update your cybersecurity plan in order to protect your business against cyber attacks.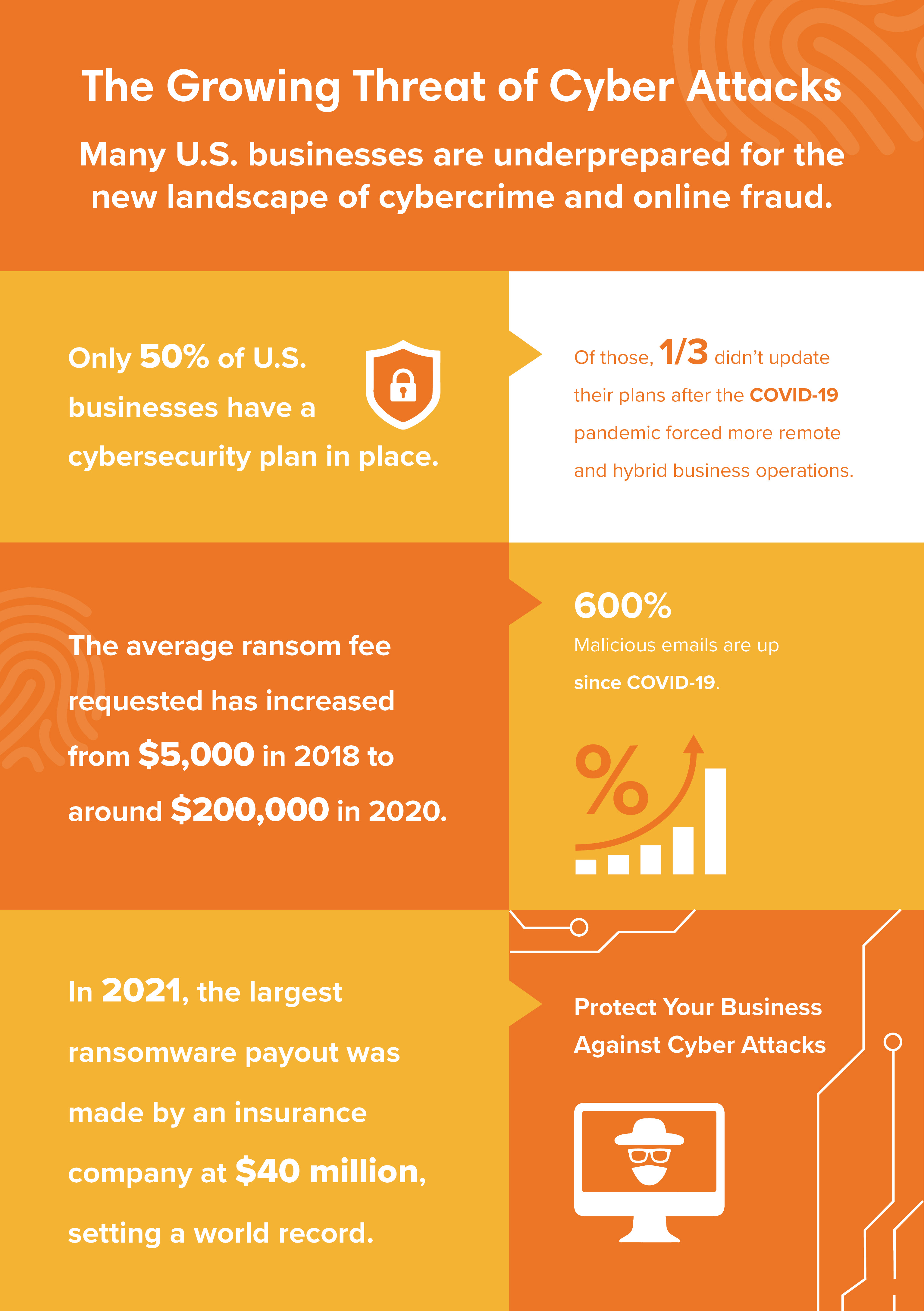 Do you have a cybersecurity plan in place? 
Only half of all businesses in the United States have a cybersecurity plan in place – a shockingly low proportion, considering that cyber attacks do not discriminate. Every business, large and small, is a target. If you do not have a plan in place, now is the time to create one. (If you're not sure where to start, you can reach out to a cybersecurity specialist for a free consultation!)
When was the last time you updated your cybersecurity plan? 
Of the businesses that have a plan for cybersecurity, a third have never updated their plans after the increase in remote and hybrid work operations that came with COVID-19 in 2020. At a time when exposure and risk is rising exponentially, it's imperative to revamp your cybersecurity plan. Experts recommend reviewing and adjusting your plan at least once per year to protect your business against the latest malware and cyber attack strategies.
How do you keep your team aware of online threats that could put your business at risk?
Malicious emails have increased a whopping 600% since 2020. At the same time, ransomware is becoming more aggressive, with the average requested fee going from $5K in 2018 to $200K in 2020. It only takes one slip-up by a well-meaning team member to take down everything you've worked so hard to build. Make sure your whole team is educated on what cyber threats can look like and what to do if faced with a potential risk.
How does your website expose you to risk?
As cybercrime evolves, it's important to know how your website holds up against current threats. Through our cybersecurity team and partners, we can put your site to the test against potential threats, so you can know where you stand, and we can work together to mitigate your risk.
What cyber protection is common practice for your industry and company size?
Discover how your competitors and others in your industry are protecting themselves. Using our cyber protection partner's benchmarking tool, we can review the typical coverage of your industry for a company your size, so you'll know exactly how you stack up.
What is your existing cyber liability, and which coverage is right for your business?
That's what we're here to help you find out. When you work with us to manage your cyber risk, our cybersecurity experts and partners analyze and assess the entirety of your cyber risk and build a custom program from the ground up. Our goal is to protect what you've built.
Cyber risks aren't going away. But we're here to help. We believe every business should be protected and our team is ready to partner with you to ensure your business has what it takes to stay safe online.
Contact our Cyber Security experts for a free consultation and protect your business against cyber attacks.
[hubspot type="form" portal="7375193″ id="fc505768-dc0c-4d81-942d-d86c55a59363″]